Landscaping News:

Thank you to everyone who got outside and helped with the Boston Ridge Spring Clean up! 

Pollinator Garden:  Several Landscape committee members have created a butterfly garden at the beginning of Headlands Court.  It is in its infancy stage and we ask that you admire from afar so the plants can take hold.  

Upcoming Projects:  Your Landscape committee is working on a multi-year project to find solutions for the drainage problems and soil erosion in common areas and the removal of invasive species climbing on trees.  In addition, we are committed to creating more aesthetically pleasing and ecologically friendly common areas.

Landscape Resources

Want to learn which trees do best in our neighborhood?  

PART SHADE:

• American Holly (Ilex opaca) medium
• Flowering Dogwood (Cornus florida) small

 


• Eastern Redbud (Cercis canadensis) small

 


• Common Paw Paw (Asimina triloba) small 

MOIST SOILS:

• Common Hackberry (Celtis occidentalis) medium
• Eastern Redbud (Cercis canadensis) small
• American Hornbeam (Carpinus caroliniana) medium
• River Birch (Betula nigra) large

SCREENING/EVERGREEN:

• Eastern Arborvitae (Thuja occidentalis) small
• American Holly (Ilex opaca) medium
• Eastern Redcedar (Juniperus virginiana) medium  

FLOWERING TREES:

• Serviceberry (Amelanchier canadensis) small
• Eastern Redbud (Cercis canadensis) small
• Flowering Dogwood (Cornus florida) small
• Sweetbay Magnolia (Magnolia virginiana) small  
• American Plum (Prunus americana) small



I

nvasive Plants

:  What are invasives?

These are non-native weeds, plants, insect pests and other organisms introduced intentionally or accidentally by people who move them from their native range.

Why should we remove invasive plants from our yards and community space?

Did you know that invasive plants overwhelm and displace our native flora?  This deprives Reston's birds, butterflies and other wildlife of essential food needed to survive the year's many challenges, from raising young to surviving the winter. Invasive species do not provide these services like our natives do, and they end up reducing habitat.

An invasive species like English Ivy that we see in Boston Ridge's trees thrives in the shade and will grow into thick carpets on forest floors, crowding out native vegetation.  Invasives will climb and eventually overtake even a mature tree, weakening branches, damaging bark and denying the tree the sunlight it needs for growth and nourishment.  Weakened plants and trees are more susceptible to problems like pests and disease and more of a hazard to our community.

How do I identify invasive species in my yard?  

Here is a list of some of Virginia's Invasive Species: Virginia Invasive Plant List

It is best to remove invasive plants (including roots) and dispose of them properly in the trash.  Do not compost these species as their seeds and roots will continue to thrive. Plant native plants in their place like Creeping Phlox, American Wisteria, Golden Ragwort and Southern Arrowwood, for example.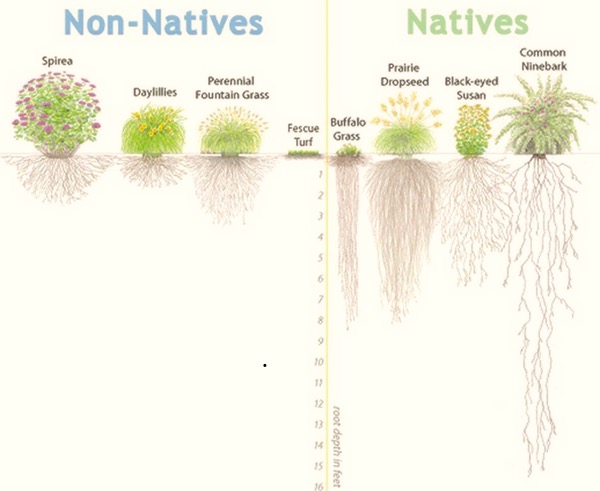 Native plants  Why should I plant native species?  
Native plants increase birds and butterflies in your yard, improve soil fertility and reduce runoff and erosion.
Where can I purchase native plants in Northern Virginia in the spring of 2020?  There are some local nurseries that specialize in native plants and others that designate their native species.

Here is your resource for more information about Northern Virginia Native Plants and where to purchase them: Plant NoVa Natives Resources

Yard Debris

How does dumping leaves and plants in the woods hurt the common space?
Dumping your dead leaves and yard debris in the woods stops the next generation of the forest, not allowing for tree seedlings, ferns and woodland wildflowers like white wood aster, wild ginger and foamflower to survive.  Dumping and clearing the open space damages these natural areas and violates both Fairfax County laws and the Code of Virginia. 

How do I dispose of my yard debris?

Do your part and keep our open space healthy and free of yard debris.  Properly dispose of yard debris at the monthly RA debris pickup days, compost leaves and non-invasive plants or dispose of them on clean up days or trash days.

Upcoming RA Brush Chipping Dates and Locations:  May 16, 17 at Lake Audobon Pool and Jun 20, 21 at Central Services Facility.